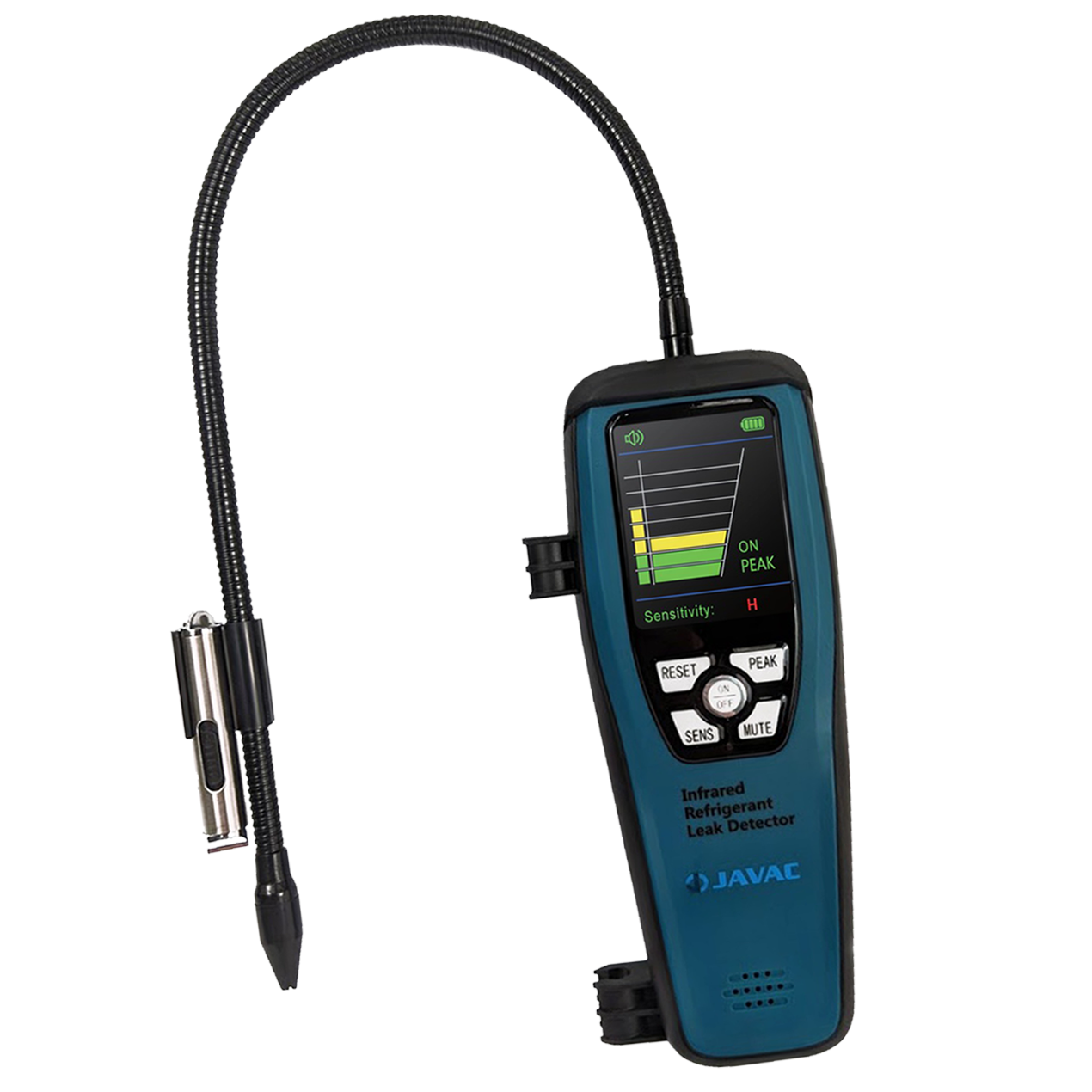 HVACDIRECT
HVACDIRECT Complete Refrigeration Kit (4 Piece Kit)
PAKSPLIT
PAKSPLIT
Usually ready in 24 hours
HVACDIRECT Complete Refrigeration Kit (4 Piece Kit)
KIT15
This HVACDIRECT KIT15, Complete Refrigeration Kit (4 Piece Kit) is a high quality tool kit that is ideal for those looking to do some serious work in the HVAC industry. Included in this kit are some of HVAC Direct's best selling products.
Kit contains:

#1. JAVAC CAL Series, 45 L/min, 2-stage Vacuum Pump - R32 Compliant
VCL452
This JAVAC CAL Series VCL452 is a quality 2-stage, oil rotary vane pump with a 45 L/min flow rate and a 15 micron ultimate vacuum.
This pump is ideal for general refrigeration service, and is packed with the features below.
Applications:
Bottle shops, convenient stores, restaurants and catering facilities

General Refrigeration

Residential or Industrial

Split system installation or servicing
Features/Benefits:
Comes with a free starter bottle of oil
R32 and 1234yf compliant
Manufactured to JAVAC's high quality standards

45 L/min flow rate

15 micron ultimate vacuum
Ballast valve
Anti-oil demister to prevent oil spillage
Fitted with a tri-connector: 1/4", 3/8" & 5/16" SAE

350ml oil capacity

Dimensions (mm): 330x135x255
Weight (kg): 9.6kg
#2. JAVAC 2-Valve Refrigeration Manifold Set - R32 & R410a Compliant
JAVA66336
This JAVAC JAVA66336, 2-Valve Refrigeration Manifold Set has evolved from over 50 years of industry knowledge. With a 36" hose set and large 80mm gauges, this manifold set is designed for consistently accurate professional use.
Features:
High quality aluminium body
Piston values
Soft ergonomic with colour-coded knobs
Heavy-duty swivel hanging hook
Heavy-duty black carry case
80mm gauges with soft cushion-protective cover, pulse-free pointer, zero-pointed callibration and colour-coded
Specifications:
800 psi max recommended working pressure
Burst pressure 4,000 psi
Red, blue & yellow hoses: 72", 5/16" SAE connections
Included: 2-Valve Refrigeration Manifold, 3-piece hose set, hanging manifold hook & carry case
#3. JAVAC Pro-Charge 3 Refrigerant Charging Scale
C12626
This JAVAC C12626, Pro-Charge 3 Scales offer a 100kg weighing limit. The scale is highly accurate, extremely durable and easy to operate.
Features:
Power on self test (only lasts 2 seconds)
Tare deduction in full range (100kg)
LCD display 
Carry bag included
Auto turn off feature, after 10 minutes idle
#4. JAVAC Pro-Sense Leak Detector - R32, R410a & R134a Compliant
JILD200
This JAVAC JILD200, Pro-Sense Leak Detector, when compared to the more common, traditional leak detector, excels in battery, detection accuracy, additional features, and even ergonomics. The Pro-Sense is the latest leak detector design to come from JAVAC.
Features:
Maximum sensitivity less than 4g/year
L-M-H, three levels of sensitivity
Self-test function starts when powering on
Leakage peak recording function
Battery indication
Sensor fault alarm
Designed for ergonomic comfort
TFT LCD display
UV-LED instantly lights up
Auto shut down feature after 10 minutes of no operation
Earphone function for noisy environments
Includes:
Infrared sensor
Rechargeable lithium ion battery 
Spare filters
AC wall charger
Flexi-probe
Ear buds
Heavy duty carrying case
Specifications:
Compatible refrigerants: R22, R32, R134a, R404a, R410a, R507, R600, R1234yf & all CFCs, HCFCs, HFCs and HFOs
Minimum sensitivity: 1 g/a
Sensitivity per EN14624: 1 g/a
Power source: Lithium ion battery (rechargeable)
Battery life: ~10 hours
WARRANTY:
12 months from date of purchase.
*All warranties exclude consumables such as; filters, gaskets, leads, batteries, fuses, sensors, cases etc*
PRE-ORDERS:
All products listed with the "PRE-ORDER ONLY' badge are currently awaiting more stock. Please be sure to speak to a staff member regarding the wait time involved with a particular PRE-ORDER product before ordering.