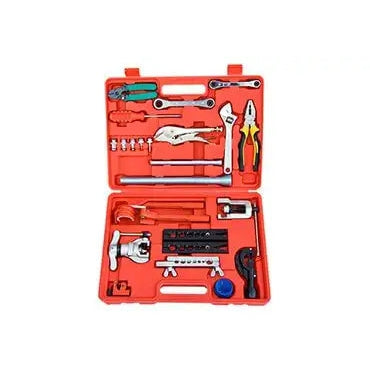 HVACDIRECT
HVACDIRECT Refrigeration Mega Tool Kit
3EU402
3EU402
Usually ready in 24 hours
HVACDIRECT Refrigeration Mega Tool Kit
3EU402
This HVACDIRECT 3EU402, Refrigeration Mega Tool Kit is a Kit that intgrates multiple tool kits in one - meeting all your refrigeration maintenance needs!
The Kit includes:
Pipe bender

Pipe cutter

Flaring & swaging tool

Elbow spring

Ratchet wrench

Trimming knife

Plus, other refrigeration tools are also included
WARRANTY:
12 months from date of purchase.
*All warranties exclude consumables such as; filters, gaskets, leads, batteries, fuses, sensors, cases etc*
PRE-ORDERS:
All products listed with the "PRE-ORDER ONLY' badge are currently awaiting more stock. Please be sure to speak to a staff member regarding the wait time involved with a particular PRE-ORDER product before ordering.