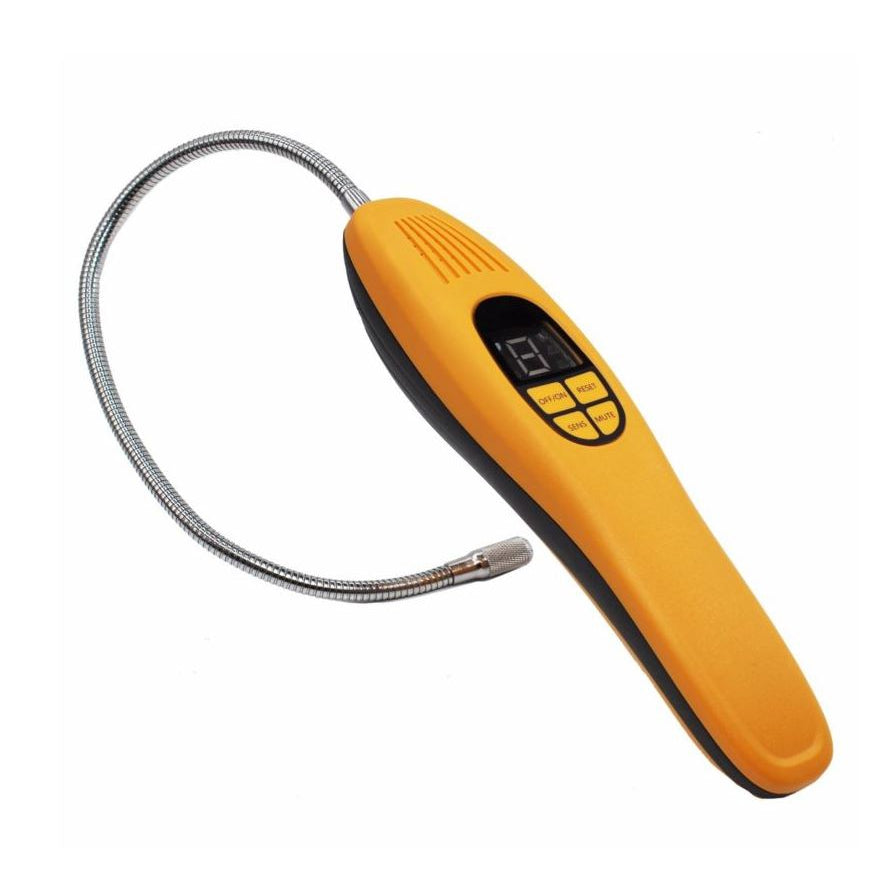 HVACDIRECT
HVACDIRECT Refrigeration & HVAC Split System Install Kit (Pump, Manifold Set, Tool Set, Scales, Thermometer, Tube Bender & Leak Detector)
KIT13
KIT13
Usually ready in 24 hours
HVACDIRECT Refrigeration & HVAC Split System Install Kit (Pump, Manifold Set, Tool Set, Scales, Thermometer, Tube Bender & Leak Detector)
KIT13
This HVACDIRECT KIT13, Refrigeration & HVAC Split System Install Kit (Pump, Manifold Set, Tool Set, Scales, Thermometer, Tube Bender & Leak Detector) is a high quality tool kit that is ideal for general refrigeration and split system service. Included in this kit are some of HVAC Direct's best selling products.
Kit contains:

#1. Refrigeration Vacuum Pump (VP215N) 
Ideal for general refrigeration service, our top selling 45L/min Vacuum Pump is a quality, 2-stage oil rotary vane pump with 15 micron ultimate vacuum. 
Applications:
Bottle shops and convenient stores

Restaurants, cafes and catering facilities

General refrigeration

Household or residential including split systems

Commercial
Key Benefits:
Manufactured to high quality JAVAC standards

Great value for money 

Anti-oil demister to prevent oil spillage

Fitted with 1/4" SAE connector
Refrigerants:
R12, R134a, R401C, R406A, R500, R22, R401A, R401B, R402B, R407C, R407D, R408A, R409A, R411A, R411B, R412A, R502, R509, R402A, R404A, R407A, R407B, R410A & R507
#2. HVACDIRECT Manifold Set & Refrigeration Tool Kit
ZRB5BA
This HVACDIRECT ZRB5BA, HVACDIRECT Manifold Set & Refrigeration Tool Kit is the perfect entry level tool kit for refrigeration. See all features of products within the kit below;
1. Manifold gauge:
Refrigerants: R410a, R22, R134a, R404a

Anti-collision cover for gauge protection

Operation: 2 valve with sight glass

Port size: 1/4" SAE
2. Hoses:
Length (mm): 1500 

Connections: 1/4" SAE x 5/16"

Working pressure: 800 psi

Burst pressure: 4000 psi

Colours: Blue, red & yellow
3. Tube flaring tool
Heavy duty eccentric cone flaring 

Steel design

Bar lock

Hardened steel bearings

Flaring bar sizes (mm): 6, 8, 10, 12, 16 & 19

Flaring bar sizes (inches): 1/4", 5/16", 3/8", 1/2",  5/8" & 3/4"
4. Tube cutter:
6x roller bearing for easy turning

Large wheel for easy cutting

Tube size: 4-32mm
5. Deburring tool:
Plastic body with hardened steel swivel tips

Internal tip storage, including 1 spare tip
#3. HVACDIRECT Refrigerant Leak Detector (Heated Diode)
LD100
This HVACDIRECT LD100, Refrigerant Leak Detector is a highly sensitive, quick responding & easy to use entry level leak detector.
Features:
Product modelling unique, accord with human body function

LED display

Sensitivity Level 7

Conform to the CE test standard

SAEJ1627 standard

The probe can be replaced

Has the battery indicator, low battery alarm function
Specifications:
Power types: 5 dry cell

Refrigerant detection range: R12, R22, R502, R134A, R404A, R407C, R410A, R600A & HFC/HCFC series of refrigerants

Sensitivity rating: Sensitivity Level 7

Detection precision: For R134a, static: 3 g/yr & dynamic: 5 g/yr

Operating environment: 0 °C〜40 °C; relative humidity (50%~85% rh)

Probe type: Semiconductor sensor

Warm-up time: 30 seconds
#4. HVACDIRECT Digital Thermometer
WT2THERMO
This HVACDIRECT WT2THERMO, HVACDIRECT Digital Thermometer is a high quality, portable thermometer. With it's 900mm flexible lead, readings can be taken using it from outside of vehicles.
Details:
Temperature: -50 °C to +300 °C

Resolution: 0.1 °C

Accuracy: ±1 °C

Power: DC 1.5 V AAA alkaline battery

Probe length: 100 mm (+ handle)

Screen size (mm): 32 x 14 

Plus: Min/max and alarm functions
#5. HVACDIRECT Refrigeration Flaring Tool Kit (With Tube Cutter)
LT1226A
This HVACDIRECT LT1226A, Refrigeration Flaring Tool Kit is a quality, versatile, 3-piece kit used for aluminium and copper piping, brake and fuel lines, and cooling and transmission lines.
Detail:
Sizes:  3/16", 1/4", 5/16", 3/8", 7/16", 1/2" and 5/8"

Used for: soft pliable metals such as copper and aluminium

Flaring tools provide a water-tight fitting and come with industry-standard measurements on the tool

They are rated highly upon their ability to form tight fittings

Set in: Handy PVC carry storage case
#6. JAVAC Pro-Charge 3 Refrigerant Charging Scale
C12626
This JAVAC C12626, Pro-Charge 3 Scales offer a 100kg weighing limit. The scale is highly accurate, extremely durable and easy to operate.
Features:
Power on self test (only lasts 2 seconds)
Tare deduction in full range (100kg)
LCD display 
Carry bag included
Auto turn off feature, after 10 minutes idle
#7. WIPCOOL Tube Bender
JAVHB3
This WIPCOOL JAVHB3, Tube Bender is a quality tool used to bend and shape tubing across industries such as; HVAC, refrigeration, automotive, hydraulic and pneumatic systems maintenance.
Specifications:
Provides flawless bending results
High quality die-cast aluminium for long life
Sizes: 1/4", 5/16" & 3/8" (O.D.)
WARRANTY:
12 months from date of purchase.
*All warranties exclude consumables such as; filters, gaskets, leads, batteries, fuses, sensors, cases etc*
PRE-ORDERS:
All products listed with the "PRE-ORDER ONLY' badge are currently awaiting more stock. Please be sure to speak to a staff member regarding the wait time involved with a particular PRE-ORDER product before ordering.