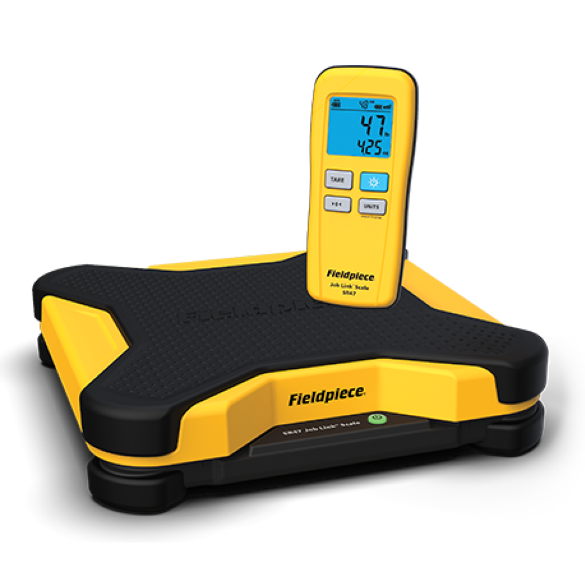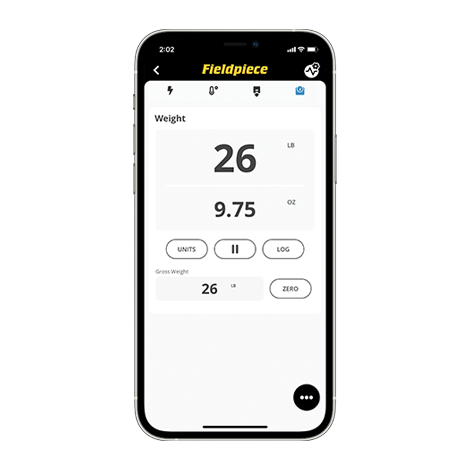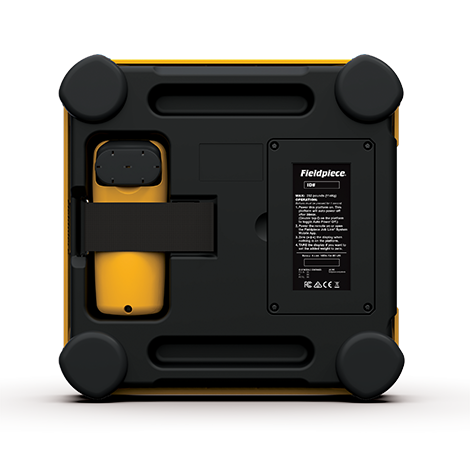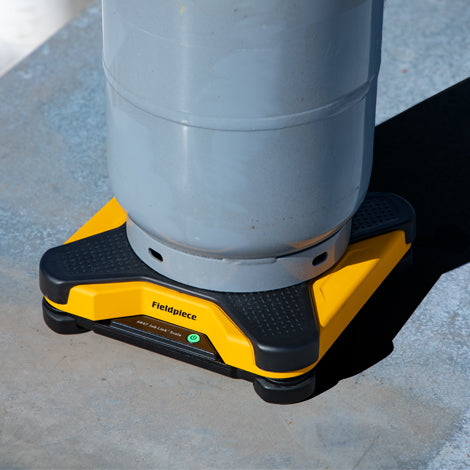 FIELDPIECE
FIELDPIECE Digital Refrigerant Weighing Scales
SR47
SR47
Usually ready in 24 hours
FIELDPIECE Digital Refrigerant Weighing Scales
SR47

The Bluetooth active Fieldpiece SR47 communicates seamlessly with the Fieldpiece Job Link® System App, so you'll be able to read refrigerant levels anywhere on the job site while easily documenting and saving customer data.

Its 114 kg maximum load capacity accommodates any charge or recovery requirement, while its oversized 33 cm platform design with unique integrated bumpers is engineered to fit larger refrigerant bottles. It also features the best platform battery life in the industry with a long life of up to 200+ hours, which minimises jobsite downtime by removing the need to change or recharge batteries.

The wireless remote stores right inside the scale and boasts an improved rubber gasket grip design, shorter length, larger display and a redesigned magnet, plus a hefty 80-hour battery life.

The SR47 compact size and lightweight @ 3.1 kg portability makes it easy to carry up a ladder and wet weather is no barrier to performance … is weather resistant with an IP64 rating for the remote and an IP54 rating for the platform for use in wet conditions.
Main Features:
33 cm platform to fit larger bottles and integrated bumpers for increased durability

Strong enough to hold a maximum load of 115 kg

Wireless remote control with LED backlight – can be stored inside the scale back, and makes viewing data easy

Industry-leading accuracy: ±0.03% rdg + 0.7 g

Lightweight - total weight of scale and remote is 3.2 kg
Water resistance can handle any job site

Connects to the Job Link® System App with 305 m wireless range and Digital Manifolds SM480VINT & SM380VINT

Platform battery lasts 200+ hours - can literally work all week, if needed

Easy-to-use raised power button now located at base of scale

Specifications:
Good in ambient conditions of 23 °C ±5 °C), <75% relative humidity

Over range: "OL" is displayed

Maximum load: 115 kg

Max tank base diameter: 33 cm:
Auto power off: 30 minutes of inactivity (no change in weight or buttons pressed), (APO can be disabled)

Backlight: Blue, turns off in 2 minutes if no buttons are pressed

Accuracy: ±0.03% rdg + 10 g, 0 to 30 kg ±0.05% rdg + 10 g, 30 to 114 kg

Units: kg, g, lb, oz

Temperature coefficient: 0.1 x (specified accuracy)

Wireless range: 305 m line of sight

Radio frequency: 2.4 GHz

Battery type: Remote display: 9 V, NEDA 1604, JIS 006P, IEC 6F22 Platform: 6 AA, NEDA 15A, JIS UM3, IEC LR6

Battery life: Remote display: 80 hours typical alkaline (backlight off) Platform: 200 hours typical alkaline

Operating environment: 0 to 50 °C at <75% RH
Storage temperature: -20 to 60 °C, 0 to 80% RH (with battery removed)

Weight: Platform with battery ~3.2 kg, Remote with battery 220 g

Water resistant: IP54 (Platform), IP64 (Remote)
What's included:
Wireless SR47 Refrigerant Scale

Platform and remote

Rugged nylon case with carrying strap

Standard 9 V battery (remote) installed
6 AA batteries (platform) installed

Operator's manual
WARRANTY:
12 months from date of purchase.
*All warranties exclude consumables such as; filters, gaskets, leads, batteries, fuses, sensors, cases etc*
PRE-ORDERS:
All products listed with the "PRE-ORDER ONLY' badge are currently awaiting more stock. Please be sure to speak to a staff member regarding the wait time involved with a particular PRE-ORDER product before ordering.