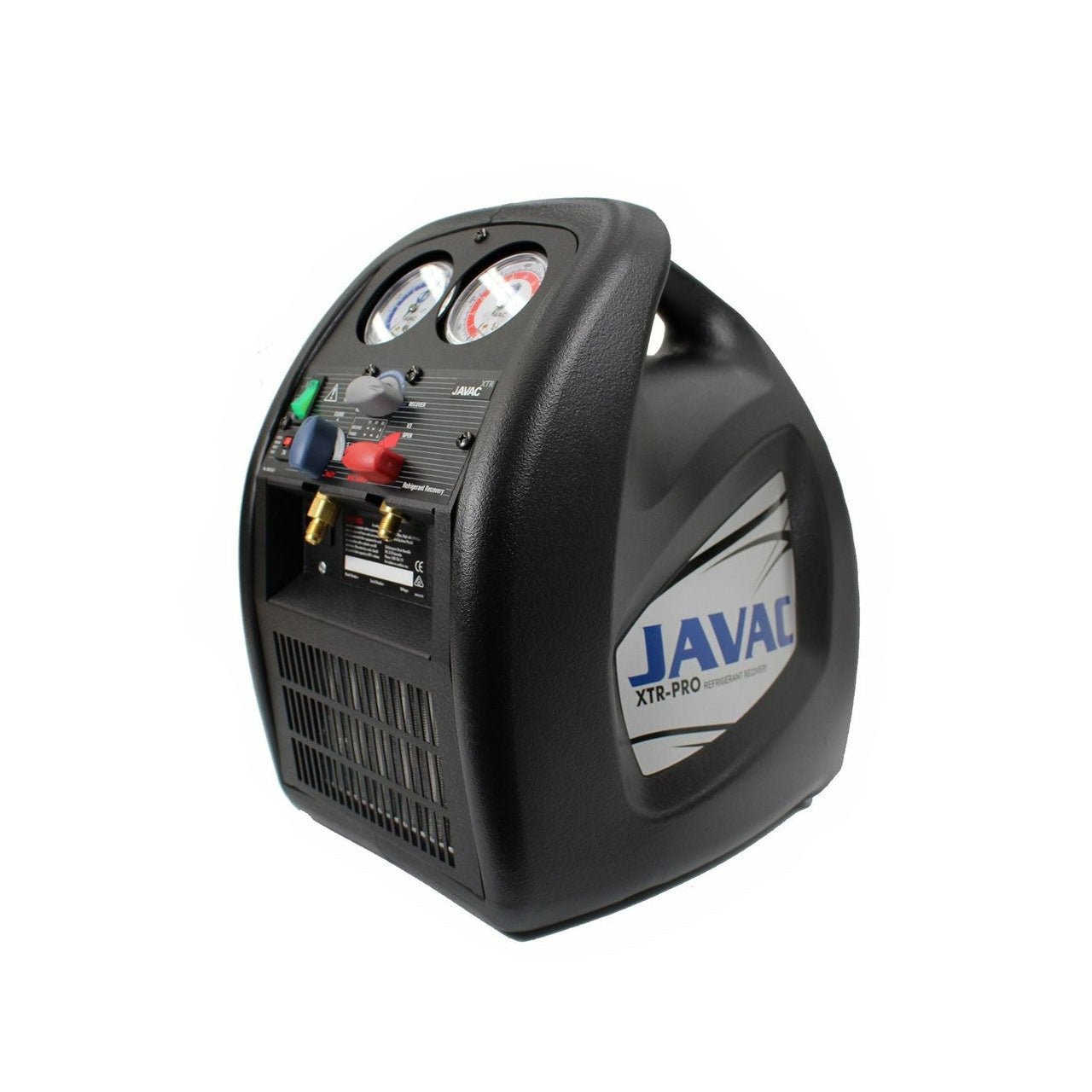 HVACDIRECT
HVACDIRECT Complete Refrigeration Kit (8 Piece Kit)
KIT15
KIT15
HVACDIRECT Complete Refrigeration Kit (8 Piece Kit)
KIT15
This HVACDIRECT KIT15, Complete Refrigeration Kit (8 Piece Kit) is a high quality tool kit that is ideal for those looking to do some serious work in the HVAC industry. Included in this kit are some of HVAC Direct's best selling products.
Kit contains:

#1. JAVAC CAL Series, 45 L/min, 2-stage Vacuum Pump - R32 Compliant
VCL452
This JAVAC CAL Series VCL452 is a quality 2-stage, oil rotary vane pump with a 45 L/min flow rate and a 15 micron ultimate vacuum.
This pump is ideal for general refrigeration service, and is packed with the features below.
Applications:
Bottle shops, convenient stores, restaurants and catering facilities

General Refrigeration

Residential or Industrial

Split system installation or servicing
Features/Benefits:
Comes with a free starter bottle of oil
R32 and 1234yf compliant
Manufactured to JAVAC's high quality standards

45 L/min flow rate

15 micron ultimate vacuum
Ballast valve
Anti-oil demister to prevent oil spillage
Fitted with a tri-connector: 1/4", 3/8" & 5/16" SAE

350ml oil capacity

Dimensions (mm): 330x135x255
Weight (kg): 9.6kg
#2. JAVAC XTR PRO Recovery Machine - Non-Sparking - R32, R410 & R134a Compliant
XTRC2
This JAVAC XTRC2, XTR PRO is a quality recovery machine, that provides reliability, accuracy, and an all-Australian design.
Features:
Recovers: R12, R134a, R22, R32, R401, R404, R406, R408, R410A, R411, R412, R500, R502, R509, 1234yf, and most CFC's, HCFC's and HFC's

Built-in manifold analyser

Optimum fail-safe performance

Purges and self-cleans 'on the fly' with no need to shut down

A high torque AC motor provides up to 50% noise reduction

Increased vapour speed ensures the residual vapour moves quicker

You can flush, push/pull, and sub-cool by using the advanced facility
Specifications:
Liquid recovery rate (kg/min): 1.8

Vapour recovery rate (kg/min): 0.25

Push/pull (kg/min): 5.5

Connections: 1/4" SAE

HP Cut Out: 550 psi

Operating Temp: -5 °C to 60 °C

Noise Level: 72 dba

Weight (kg): 16kg

Dimensions (mm): 420x290x420
#3. INFICON Tek-Mate Leak Detector
705202G6
This INFICON 705202G6, Tek-Mate Leak Detector offers hand-held convenience. It boasts proven heated diode sensor technology and incorporates an electrochemical sensor consisting of a ceramic substrate, doped with a reactive element, and maintained at high temperatures by a built-in heating element.
Applications:
Residential 

Light commercial

Industrial

Automotive A/C
Benefits:
Detects all CFC's, HCFC's and HFC's

Runs on 2 D-cell batteries

No adjustments required as it continuously monitors and compensates for changing background noise
Specifications:
HDST: Heated Diode Sensor Technology

Operating temperature: -20 - 50 °C

Minimum sensitivity: 5 g/yr

Sensor life: 100 hours

Battery life: 16 hours
#4. HVACDIRECT Manifold Set & Refrigeration Tool Kit
ZRB5BA
This HVACDIRECT ZRB5BA, HVACDIRECT Manifold Set & Refrigeration Tool Kit is the perfect entry level tool kit for refrigeration. See all features of products within the kit below;
1. Manifold gauge:
Refrigerants: R410a, R22, R134a, R404a

Anti-collision cover for gauge protection

Operation: 2 valve with sight glass

Port size: 1/4" SAE
2. Hoses:
Length (mm): 1500 

Connections: 1/4" SAE x 5/16"

Working pressure: 800 psi

Burst pressure: 4000 psi

Colours: Blue, red & yellow
3. Tube flaring tool
Heavy duty eccentric cone flaring 

Steel design

Bar lock

Hardened steel bearings

Flaring bar sizes (mm): 6, 8, 10, 12, 16 & 19

Flaring bar sizes (inches): 1/4", 5/16", 3/8", 1/2",  5/8" & 3/4"
4. Tube cutter:
6x roller bearing for easy turning

Large wheel for easy cutting

Tube size: 4-32mm
5. Deburring tool:
Plastic body with hardened steel swivel tips

Internal tip storage, including 1 spare tip
#5. JAVAC 2-Valve Refrigeration Manifold Set - R32 & R410a Compliant
JAVA66336
This JAVAC JAVA66336, 2-Valve Refrigeration Manifold Set has evolved from over 50 years of industry knowledge. With a 36" hose set and large 80mm gauges, this manifold set is designed for consistently accurate professional use.
Features:
High quality aluminium body
Piston values
Soft ergonomic with colour-coded knobs
Heavy-duty swivel hanging hook
Heavy-duty black carry case
80mm gauges with soft cushion-protective cover, pulse-free pointer, zero-pointed callibration and colour-coded
Specifications:
800 psi max recommended working pressure
Burst pressure 4,000 psi
Red, blue & yellow hoses: 72", 5/16" SAE connections
Included: 2-Valve Refrigeration Manifold, 3-piece hose set, hanging manifold hook & carry case
#6. HVACDIRECT Digital Thermometer
WT2THERMO
This HVACDIRECT WT2THERMO, HVACDIRECT Digital Thermometer is a high quality, portable thermometer. With it's 900mm flexible lead, readings can be taken using it from outside of vehicles.
Details:
Temperature: -50 °C to +300 °C

Resolution: 0.1 °C

Accuracy: ±1 °C

Power: DC 1.5 V AAA alkaline battery

Probe length: 100 mm (+ handle)

Screen size (mm): 32 x 14 

Plus: Min/max and alarm functions
#7. JAVAC Pro-Charge 3 Refrigerant Charging Scale
C12626
This JAVAC C12626, Pro-Charge 3 Scales offer a 100kg weighing limit. The scale is highly accurate, extremely durable and easy to operate.
Features:
Power on self test (only lasts 2 seconds)
Tare deduction in full range (100kg)
LCD display 
Carry bag included
Auto turn off feature, after 10 minutes idle
#8. JAVAC Acravac Pro - Digital Vacuum Gauge
C12627
This JAVAC C12627, Acravac Pro Digital Gauge obtains highly accurate vacuum measurements prior to filling refrigerants. It features a vacuum sensor to precisely measure vacuum in refrigeration and A/C systems, along with a wide range of other industrial fields. Leading IP65 water resitance for field technicians offers additional peace of mind.
Features:
0-19000 micron range

Measures: Hg, Torr, psia, mbar, mTorr, Pa, micron & kPa

Has a bluetooth mobile app

Data storage & export function

Data analysis graphs

Auto-off

High/low pressure alarms

LCD display with backlight

Protection grade IP65 (water & dust resistant)

Carry bag
Specifications:
Measuring range: 0-19000 micron

Operating temperature: -178 °C - 60 °C

Resolution:

0-400, 1 micron
         400-3000, 10 micron
         3000-10000, 100 micron
         10000-19000, 250 micron
Wireless/bluetooth transmission distance: 30 m

Data storage: 9943 readings

Fitting: 1/4″ M

Accuracy: +/– 10%

Product size (mm): 127x74x37

Power supply: x3 AA batteries

Max overpressure: 27.5 bar

Battery life: 200 h

Units: inHg, Torr, psia, mbar, mTorr, Pa, micron & kPa
WARRANTY:
12 months from date of purchase.
*All warranties exclude consumables such as; filters, gaskets, leads, batteries, fuses, sensors, cases etc*
PRE-ORDERS:
All products listed with the "PRE-ORDER ONLY' badge are currently awaiting more stock. Please be sure to speak to a staff member regarding the wait time involved with a particular PRE-ORDER product before ordering.